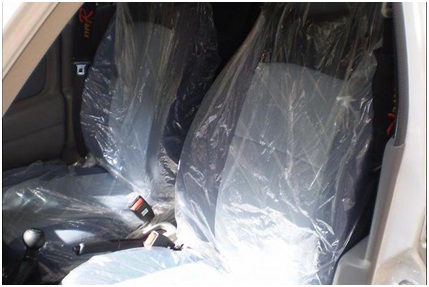 As the leading auto seat cover manufacturers in Gurgaon, Shree Bankey Bihariji Packaging is engaged in offering top quality packaging products.
We manufacture polythene auto seat covers which can protect the car and bus seats. We offer these polythene seat covers in full size for cozy fit to the whole seat, such as head rests in all vehicles. We offer these polythene seat covers with gusset on the bottom. It means we provide anti-slip grip to the users. These poly seat covers are cozy to sit with easy maintenance.
Our disposable polyethylene car seat covers can easily protect the car seats for patient transport and servicing. Our car seat covers are made of 100% recyclable and heavy duty LDPE plastics and are offered with 250 seat protectors in each roll. We can also print your company's message or logo on these seat covers. We are the leading manufacturer and supplier of disposable car seat covers in Delhi NCR.
We are going to offer a complete range of auto seat covers, such as non-woven car seat covers, transparent car seat covers, disposable clear car seat covers, and others. We offer our premium range of disposable car seat covers by considering the ever-changing needs of our clients.